A lot of new dishes on our menu for the next weeks

The whole team wishes you
beautiful moments and enjoy your meal !
Also possible for take-away or home-delivery!
Aal Eechternoach – Local, regional and also vegan!
vegan

Red cabbage soup
11,90
Pan-fried kofu – vegetable chips
Florence or Benedicte?
17,90
Poached bio egg – fresh avocado – hollandaise sauce – marinated spinach – brioche bread from the Jeitz bakery – homesmoked salmon
glutenfree

Carpaccio of Luxembourgish beef "Produit du Terroir"
18,90
Green stuff – capers – pine nuts – Luxembourgish mustard – honey from Beiefritz – Berdorfer Huemens cheese – pesto-duo
vegan / glutenfree

Colorful vegetable tartar
16,50
Carrots – beetroot – vegan feta – peas
vegan / glutenfree

Jakob mushroom on cabbage and beetroot
16,50
King oyster mushrooms – pine nuts – eggplant
Kids Menu (up to 12 years)
Kids Mullerthal-Burger
15,90
100% Luxembourgish beef from the Saeul butcher's shop – salad – homemade burger sauce – Berdorfer Roude Bouf cheese – bun* from the Jeitz bakery – French fries – coleslaw
// also possible with glutenfree burger bun (+1,00)
Crispy fried chicken fillet from the Lausberg farm
15,90
Mushroom sauce – French fries – coleslaw
vegan

*Pasta with homemade vegetable bolognese
11,90
Green stuff – vegan, homemade parmesan cheese
// also possible with glutenfree potato gnocchis
Aal Eechternoach Classics
Aal Eechternoach Steakhouse-Pan
25,90
Luxembourgish beef fillet strips "Produit du Terroir" – *pasta – pine nuts – Berdorfer Huemens cheese – green stuff – Brussels sprouts – cherry tomatoes – red wine beef gravy
Veal Cordon Bleu filled with Berdorfer Huemens cheese and cooked ham from the Saeul butcher's shop
27,90
Rösti potato croquettes – creamy mushroom sauce – seasonal vegetables
vegan

Vegan cheese spaetzle*
22,90
Homemade basil pesto – sun-dried tomatoes – pine nuts – vegan parmesan cheese – romanesco
// *also possible with glutenfree gnocchis
Berdorfer cheese spaetzle* with chicken fillet from the Lausberg farm
25,90
Roude Bouf cheese – spinach – chicken fillet – creamy sauce – fried onions
// *also possible with glutenfree gnocchis
Lausberg Teriyaki Bowl with chicken from the Lausberg farm
25,90
Cauliflower rice – teriyaki-chicken – avocado – edamame – tomatoes – peanuts – wakame – sesame – coriander – spring onions – truffled mayonnaise – teriyaki dressing
vegan

Vegan Power Bowl with roasted flower sprouts
24,90
Edamame – beans – fermented daikon – avocado – chick peas – corn – sweet pepper – cauliflower rice – coriander – tomatoes – jalapeno-cashew-dressing – chili-mayonnaise
vegan

Vegan nut roast
24,90
Redwine gravy – purple mashed potatoes – cranberries – seasonal vegetables
vegan

Vegan mushroom stroganoff
24,90
Brussels sprouts – mushroom mix – spinach – pasta
vegan

Homemade banana flower curry
23,90
rice mix – cashew – naan bread – coriander
vegan / glutenfree

Vegan vegetable sausages
22,90
Schanzer potato puree – Luxembourgish mustard sauce – seasonal vegetables
vegan

Vegan Raclette for 2
40,00 pp
(on pre-order)
Enjoy our vegan raclette for 2 with different sauces, marinated vegetables, tofu, dips
and our 3 homemade vegan cheeses
glutenfree

Beef I-Bone Steak - Dry Aged "Produit du Terroir"
34,90
Homemade chimichurri – grenaille potatoes – glazed carrots
glutenfree

Chicken fillet from the Lausberg farm filled with Berdorfer goat cheese and pesto
26,90
Broccoli puree – seasonal vegetables – Berdofer cheese sauce
glutenfree

Wagyu beef köttbullar (meatballs) from the Wewer farm
28,90
Schanzer potato puree – seasonal vegetables – gravy – cranberries
Beef roulade filled with cancoyotte and mixed beef and pork meat
26,90
Portwine sauce – pasta – seasonal vegetables
vegan

Sweet potato fries
5,00
vegan

Fried hemp cabbage balls
5,00
vegan

Carrot & parsnip fries
5,00
vegan

Mixed salad or vegetables
5,00
vegan

Truffle Mayonnaise
2,00
vegan

Potato croquettes
5,00
vegan

Cashew-mayonnaise / Chili-mayonnnaise
2,00
lunch_dining
with French fries and homemade coleslaw
star
also possible with glutenfree burger bun (+1,00)
Lausberg's Buttermilk Chicken Burger
22,90
Buttermilk chicken from the Lausberg farm – green stuff – grilled bacon – chili mayonnaise – Roude Bouf cheese – coleslaw – tomato – bun from the Jeitz bakery
vegan

Beyond Cheese Burger
22,90
Beyond burger patty – bun from the Jeitz bakery – gherkin – homemade aioli sauce – homemade vegan cheese – green stuff – grilled onions – tomato
Mëllerdall Burger Deluxe
22,90
100% Luxembourgish beef from the Saeul butcher's shop – tomato – gherkin – grilled onions – grilled bacon – green stuff – homemade burger sauce – bun from the Jeitz bakery – Berdorfer Roude Bouf cheese topping
vegan

Sweet Potato Kidney Burger
22,90
burger patty with sweet potatoes and kidney beans – grilled onions – tomato – tomato salsa – vegan bacon – green stuff – vegan cheese – cashew burger sauce – bun from the Jeitz bakery
Aal Eechternoach XL Burger
25,90
Double 100% Luxembourgish beef patty – Luxembourgish bacon – salad – tomato – gherkin – Berdorfer Roude Bouf cheese – grilled onions – barbecue sauce – bun from the Jeitz bakery
Extra cheese (Roude Bouf/Berdorfer)
1,50
Extra bacon from our local butcher Saeul
1,50
vegan

Sweet potato fries
5,00
vegan

Hemp and kale balls
5,00
vegan

Fried falafel balls with edamame & herbs
5,00
vegan

Carrot & parsnip fries
5,00
vegan

Mixed salad or vegetables
5,00
vegan

Truffle Mayonnaise
2,00
vegan

Cashew Mayonnaise / Chili Mayonnaise
2,00
vegan

Potato croquettes
5,00
Our homemade Pinsa
---
Fermentation ranges from 48 to 72 hours and
much healthier than the pizza dough
---
eco
with vegan cheese (+1,00€)
star
gluten free pinsa (+2,00€)
veggie

Burrata
15,90
San Marzano tomato sauce – burrata – cherry tomatoes – homemade basil pesto – herb oil – green stuff – fior di latte – pine nuts
Rustikalesch
17,90
San Marzano tomato sauce – cherry tomatoes – raw ham – pine nuts – Berdorfer Huemens cheese – fior di latte – basil pesto – green stuff
Champi-Ham
16,40
San Marzano tomato sauce – fior di latte – oregano – cooked ham from the Saeul butcher's shop – basil fresh – mixed mushrooms – herb oil
Lausberg Teriyaki
17,90
San Marzano tomato sauce – fior di latte – teriyaki sauce – carrots – chicken filet from the Lausberg farm – leek – edamame
vegan

Vegan Deluxe
16,80
San Marzano tomato sauce – humus – zucchini – green stuff – cherry tomatoes – vegan feta – artichokes – herb oil – sesame – beetroot
Berdorfer Trüffel Deluxe
18,40
San Marzano tomato sauce – Berdorfer truffle cheese – raw ham – herb oil – green stuff – cherry tomatoes – truffle oil – truffle cream – fior di latte
La Tuna
16,70
San Marzano tomato sauce – fior di latte – tuna – red onions – leek – olives – green stuff – capers – herb oil
veggie

Séiss Geess à la Figue
16,90
San Marzano tomato sauce – fior di latte – figs – Berdorfer goat cheese – honey from Beiefritz – thyme – caramelized walnuts
Zoossiss
15,40
San Marzano tomato sauce – fior di latte – basil – sweet pepper – salami from the Saeul butcher's shop – cherry tomatoes – herb oil
Sweet Pastrami
18,50
San Marzano tomato sauce – fior di latte – cherry tomatoes – beef pastrami – honey & mustard sauce – green stuff – Berdorfer Huemens cheese
veggie

Pesto-Duo
16,80
San Marzano tomato sauce – fior di latte – cherry tomatoes – homamde basil & tomato pesto – pine nuts – burrata – green stuff – basil – sun-dried tomatoes
thumb_up
with vegan oat sour cream
campaign
also possible with gluten-free pinsa
CamemBerdorfer
16,90
Berdorfer camembert – raw ham – cranberry sauce – leek
vegan

Séissen Feta
16,50
Vegan feta – figs – thyme – leek – agave – caramelized walnuts – green stuff
De Speckegen
15,90
Bacon from the Saeul butcher's shop – red onions – leek
Smoked Salmon
16,90
Homesmoked salmon – honey mustard sauce – spinach – green stuff
veggie

Pesto
15,90
Cherry tomatoes – homemade basil pesto – green stuff – fior di latte
veggie

Séiss Geess
16,90
Berdorfer goat cheese – rosemary – honey from Beiefritz – leek – figs – green stuff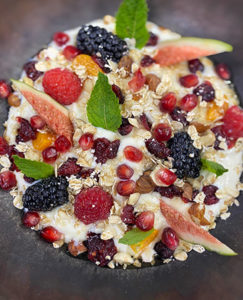 In the end some sweet dessert
vegan / glutenfree

Homemade cheesecake with raspberry & passion fruit
12,90
Speculoos – fresh berries
vegan / glutenfree

Fondue au Chocolat
15,90
Hot chocolat sauce – fresh fruit mix
vegan

Cinnamon Flamkuch
13,90
Apple – raisins – cinnamon – sweet cream
vegan

Banana cake with walnuts and oat cream
10,90
Hot vanilla sauce – fresh berries – chocolat flakes
vegan / glutenfree

Berdorfer Sorbet
9,90
Wild berry-sorbet from Berdorfer – Crémant Pundel-Hoffeld
vegan / glutenfree

Fruity Kofu-Tiermchen
12,90
Lime cream – fresh berries – chocolat
vegan

Aal Eechternoach Panekichelcher
12,90
Vegan Pancakes – berry sauce – coconut-cream – chocolat
vegan

Vegan strudel from the Jeitz bakery filled with fresh apple and cinnamon
10,90
Fresh berries – vanilla and fruit sauce
vegan

Sweet Pinsa
15,90
Fresh berries – chocolat sauce – banana – almonds